Like i promised before, i have free 5 minutes, so here are short instructions for hero builder:
To create hero build, hover/tap "+" icon in bottom right corner and select class. There you need to fill title of your build, description (try to write every little detail that can help others build such hero), you will also have an option to select difficulties that build is good for (some won't work for some chaos levels) and status of your build.
Public build will be visible for all on hero list (and when i will create it: on your public user profile) while private posts will be visible only for you from your personal user profile (also, not yet implemented), you can also share private builds with your friends by sending them direct link to it.
And now…. the fun begins!
After filling all that boring and unnecessary info, you can "put" shards in your hero gear/relics and select stats every gear piece should have in your build.

That's it, hit save button and go to your build (link to it will appear under build title).



If you want to create whole deck (HELL YEAH!) to show your friends or community what heroes to use in given situation (as that's more important than layout itself in current game state), hit little cards icon on right side of the hero build (not available from "create hero" page).  That will work like shopping cart in any online shop, hero you just selected will proudly wait for you to create a deck with it, you will see new icon on bottom right corner with number of "saved" heroes, that icon will HAUNT YOU TILL THE END OF TIMES! (or until you will create deck ….or remove heroes from "waiting" list by clicking cards icon again, otherwise it will follow you forever!).
After clicking "create deck" icon, you will only need to fill basic info about it (again, description is the key!) and save it. For now, you can use any hero (even not created by you) in your deck, but remember, that when author will change original hero, your deck might not have sense, but that won't happen for sure ;] But for real: i will be adding some kind of system to prevent that in future.
You can edit YOUR decks and heroes by clicking on pencil icon on the right of the build name in hero list, and soon (i hope) from your profile.
And now to the hero list! Well, it's pretty much self explanatory 😀 BUT… under every hero description in hero list you will see a summary, it's based on stats used in a build, and if something pops up, the summary will try to show it.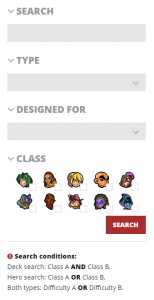 For example: you will see percentage of filled slots and stats in hero gear and relics, you will see two main stats from your hero gear, and you will see fully (almost fully, it's 80%+) utilized skills, that means relics on that slots were mostly filled with stats and shards. While that summary isn't perfect, it shows some basic info about the build.
For now, there are only my builds, but i believe after game will stabilize and ppl will farm some more shards, there will be more and search engine for builds will be useful, that's why it was functionality i wanted to be available to you asap – you can use search on the left side of hero builds page, fill "search" for title/content search, rest are only options.
I will think about searching by shards used too!
I hope you enjoy new hero builder, i will keep you posted when there will be more functionalities available, for now i want to finish (or start….) user pages.