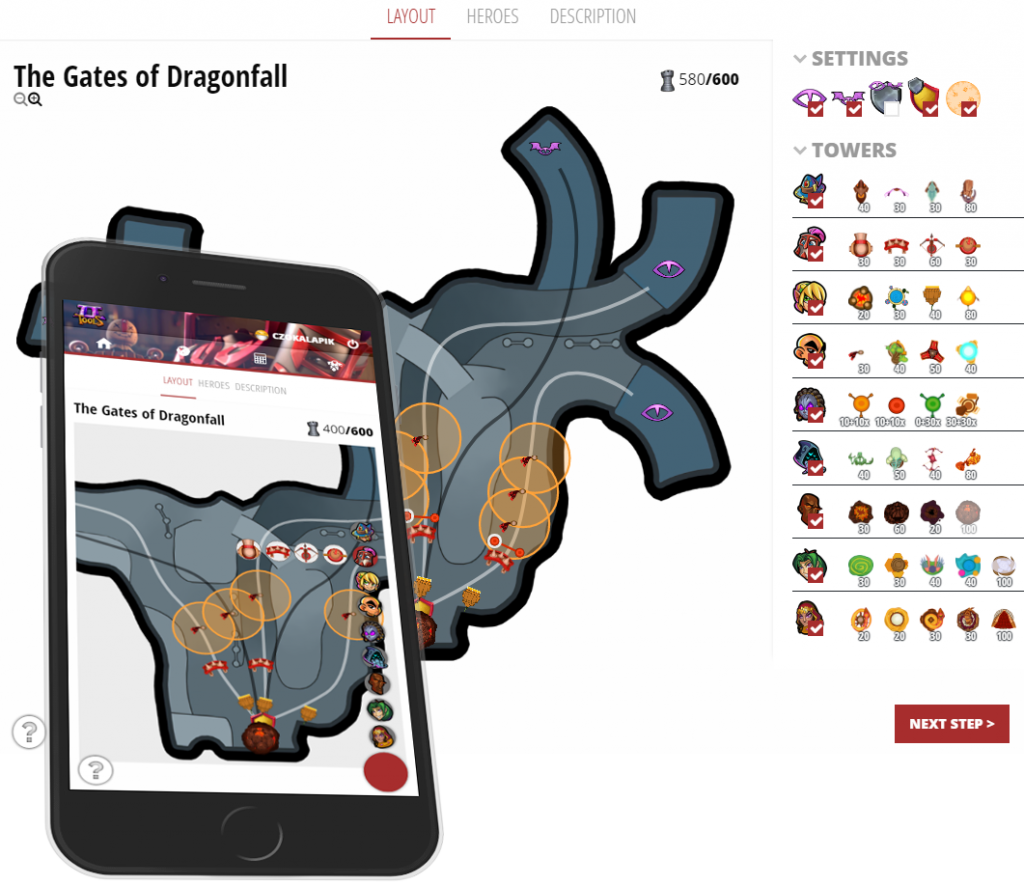 Nope, planner is not ready 🙂
I came across some problems i can't find a way to deal with when programming planner. EV2 beams and responsiveness of planner are HUGE pain in the code and i will have to deal with them longer than i suspected. The main problem is i want this planner to be way better than ddplanner.com i did back in the day, that means i'm planning to make planer with following features in addition to what ddplanner.com had:
(DONE) full mobile/touch support both while building and while viewing layout
(DONE) defenses attack cone indicators (HELL YEAH, i will do that!), you will see what def will attack where after turning on attack ranges/cones
(NOT YET DONE) ranges will be calculated based on in-game range + 50 points in gambit, [Deadly Strikes] won't be calculated…. BUT it will be added and range will be calculated automatically from connected heroes if you have it there – wait what!? (also [Frosty Duet] etc will be taken into calculations if you will have it equipped in connected hero builds).
(DONE) aura AoE indicators (as you see above, it's already working)
(DONE) neat baddies paths you can toggle: ground, air AND sub-objective paths/spawns
connection with hero builds you created and hopefully connecting each defense to defense from hero build and showing shards tooltips while hovering defenses!
(DONE)custom markers
But like i said, because i want it to be PERFECT i want everything to be as much realistic as it could be, i want it to be so perfect, i was drawing each and every defense myself for over a week in my spare time:







After i will get all defenses to work and i will be working on saving/loading + connecting hero builds, then i would love help from anyone who can offer it. I need testing group for testing map scaling and defenses scaling.If you are willing to help, please drop a comment or msg me directly via private message here. When i will be ready i will give you access to planner for testing scaling.
Thank you all for your patience and support, special thanks go to:
sakis2011 who helped me with updating spawn/paths/DU info of every map in game
Lars, creator of dd2.shadowlauch planner for giving me green light if i will decide to use parts of his code (for now i didn't, most of coding i did from scratch or based on my code from ddplanner.com)
me, for creating amazing ddplanner.com and allowing me to use parts of code 😀
CubicleNinja for creating first planner for DD1 there was
As for ETA… i'm hoping to finish the planner with all above features by the end of June, but i don't know how much free time i will have.
PS: above image is screen from already working planner (or at least from parts that work :D)